You must be 18 years or older to view this site.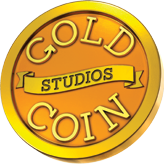 Welcome to Gold Coin Studios
Gold Coin Studios has a clear vision ... to build games that become player's old favourite go to content.
The GCS Team is made up of highly skilled people with over 200 years of land-based and online knowledge, with well over 500 titles created across both markets.
Discipline in game design and math is the cornerstone, coupled with fantastic art & music and the best tech stack in the industry, to create market defining games.
"We have spent the time building the studio, our engine and game template, and the studio is now in full swing creating the next generation of games fusing the best of the land-based world and the online world together." John Duffy (CEO)
Latest Release - May 20th, 2021

Upcoming Games

Released Games




Contact Us
John Duffy – CEO
john.duffy@goldcoinstudios.com

Wayne Fisher – Global Commercial Director
wayne.fisher@goldcoinstudios.com